April 07, 2014
Staying fit improves cognitive function later
Increased fitness linked to better verbal memory, faster psychomotor speed 25 years later.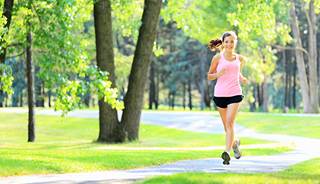 Staying fit improves cognitive function later

HealthDay News -- Higher levels of cardiorespiratory fitness (CRF) are associated with better verbal memory and faster psychomotor speed 25 years later, according to a study published in Neurology.

Na Zhu, MD, MPH, from the University of Minnesota in Minneapolis, and colleagues examined data from 2,747 people enrolled in the community-based Coronary Artery Risk Development in Young Adults Study. Participants were aged 18 to 30 years at recruitment (1985 to 1986).

Cardiorespiratory fitness was assessed at baseline and year 20 using symptom-limited maximal treadmill test durations. Verbal memory (Rey Auditory Verbal Learning Test [RAVLT]), psychomotor speed (Digit Symbol Substitution Test [DSST]) and executive function (Stroop Test) were assessed at year 25.

For each minute of baseline cardiorespiratory fitness, verbal memory scores on the RAVLT were 0.12 words recalled higher, DSST was 0.92 digits higher, and Stroop Test score was 0.52 lower (P<0.0001 for all), after accounting for race, sex, age, education and clinical center.


In the highest versus the lowest CRF quartile, each cognitive test was 21% to 34% of a standard deviation better. The coefficients for RAVLT and DSST were attenuated slightly with further adjustment for lifestyle and clinical measures, while the coefficient predicting the Stroop Test lost more than half its value (P=0.07).

For a subset of participants who underwent treadmill testing at 20 years, there was a positive association between 20-year change in CRF and DSST only (P<0.001).

"Better verbal memory and faster psychomotor speed at ages 43 to 55 years were clearly associated with better cardiorespiratory fitness 25 years earlier," the researchers wrote.

Two authors disclosed financial ties to the pharmaceutical and nutrition/weight loss industries.
References