March 06, 2015
Vaccine offers some protection for hepatitis E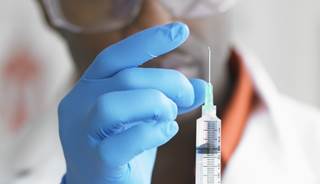 Vaccine offers some protection for hepatitis E
HealthDay News -- A vaccine for hepatitis E provides protection from the virus for at least 4.5 years, according to research published in the New England Journal of Medicine.
Ning-Shao Xia, MD, a professor in the department of biology at Xiamen University in China, and colleagues randomly assigned 56,302 healthy adults, aged 16 to 65 years, to get three shots of the hepatitis E vaccine. At the same time, 56,302 additional adults were injected with the hepatitis B vaccine (control group).
During the 4.5 years of follow-up, 60 people developed hepatitis E. Seven were among those who received the hepatitis E vaccine, and 53 cases developed in those given the hepatitis B vaccine, the researchers found.
Eight-seven percent of those who received three doses of the hepatitis E vaccine maintained antibodies against the virus for at least 4.5 years, the researchers reported. Hepatitis E is spread in areas where sanitation is poor.
"Many people get sick from this virus, but only 1% to 3% die from it, except [among] pregnant women," John Ward, MD, the director of the division of viral hepatitis at the CDC in Atlanta and coauthor of an accompanying journal editorial, told HealthDay. "Pregnant women have about a one in five chance of dying. There is no treatment for hepatitis E."