February 27, 2015
Viral pneumonia rates rise among kids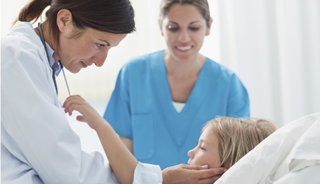 Viral pneumonia rates rise among kids
HealthDay News — Pediatric patients are at increased risk of becoming seriously ill with pneumonia — but unlike years in years past, the cause is most likely a respiratory virus, results of a study published in the New England Journal of Medicine suggest.
"Incidence estimates of hospitalizations for community-acquired pneumonia among children in the United States that are based on prospective data collection are limited," wrote Seema Jain, MD, a researcher at the United States Centers for Disease Control and Prevention in Atlanta, and colleagues.
"Updated estimates of pneumonia that has been confirmed radiographically and with the use of current laboratory diagnostic tests are needed."
To analyze the cause of pneumonia in the U.S. pediatric population, the investigators tested body fluid samples from 2,222 children treated for pneumonia at three U.S. children's hospitals. The investigators found that nearly three-quarters of the children had viral infections — either alone or in combination with a bacterial infection.
The researchers found that 66% of the pneumonia cases were caused by viruses alone. Just 8% had solely bacterial causes, and 7% were known to be caused by both bacteria and viruses. The most commonly detected virus was respiratory syncytial virus. Only 15% of children in the study had evidence of a bacterial infection (alone or in combination with a viral infection).
"The burden of hospitalization for children with community-acquired pneumonia was highest among the very young, with respiratory viruses the most commonly detected causes of pneumonia," concluded the researchers.