June 13, 2013
Warfarin recalled due to oversized tablets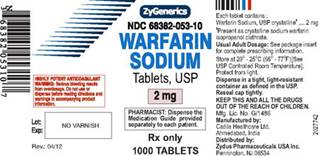 Warfarin recalled due to oversized tablets
HealthDay News -- Zydus Pharmaceuticals USA Inc., is voluntarily recalling one lot of warfarin tablets after receiving a consumer complaint of oversized tablets, according to an FDA safety alert.
Ingestion of a larger than intended dose of the anticoagulant may result in bleeding that could be fatal in some patients. Warfarin is indicated for prophylaxis and treatment of thrombosis and pulmonary embolism, thromboembolic complications associated with atrial fibrillation/cardiac valve replacement, recurrent myocardial infarction, and thromboembolic events such as stroke or systemic embolization after myocardial infarction.
Only one lot, MM5767, of warfarin 2 mg tablets is affected, and may be identified by its NDC #6838205310. This lot was distributed in the U.S. between November and December 2012.
"[C]onsumers should contact their physician or health care provider if they have experienced any problems that may be related to taking or using this particular lot of warfarin 2 mg tablets," the FDA advised. "In [the] case [that] patients have tablets of this lot of product, make sure all the tablets are of same size, and if unsure, patients should consult their dispensing pharmacy."