October 21, 2014
What to know about pediatric Ebola
the Clinical Advisor take:
Children and adolescents have historically made up a small percentage of Ebola cases, but pediatric health care professionals should know how to identify Ebola in their patients, according to a report published in JAMA Pediatrics.
The current Ebola outbreak has affected 8,399 people, resulting in 4,033 deaths as of Oct. 8, 2014. The suspected index case for this outbreak is believed to be a two-year-old child who died in Guinea in December of 2013; however, limited information is available on how this outbreak affects children.
Although detailed information about pediatric cases of Ebola is limited, the available data shows that children and adolescents often make up only a small percentage of Ebola cases. Investigators believe this may be due to cultural practices in which children are kept away from sick family members, thereby lowering the rate of Ebola transmission.
Because the current outbreak of Ebola has greatly impacted health care infrastructure in severely affected countries, the health of children will likely be seriously impacted due to challenges to providing routine care.
Distinguishing Ebola signs and symptoms from those of more common pediatric infectious diseases presents a unique challenge to pediatricians. Children typically present with nonspecific symptoms like the ones seen in adults with Ebola: fever, headache, myalgia, abdominal pain, and weakness followed by vomiting, diarrhea, and, less commonly, unexplained bleeding or bruising. It is important to determine if a patient has a history of exposure to the Ebola virus, whether through travel history or any recent direct contact with an infected patient.
If the patient is suspected to have Ebola, appropriate infection-control precautions should be taken immediately, and the state health department should be notified as soon as possible.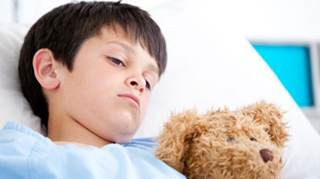 Children with Ebola generally have similar symptoms as adults with the virus.
The largest outbreak of
Ebola virus disease
(EVD) in history is occurring in West Africa. On August 8, 2014, the World Health Organization (WHO) declared this outbreak to be a Public Health Emergency of International Concern.
1
As of October 8, 2014, 8399 EVD cases (including 416 in health care personnel) with 4033 deaths were reported, although reported cases are likely a substantial underestimate of the outbreak magnitude.
2
Most EVD cases have been reported in Guinea, Liberia, and Sierra Leone, with fewer cases in Nigeria and a single case in Senegal.
Next Article in Web Exclusives