January 21, 2015
Working in pairs may reduce diagnostic errors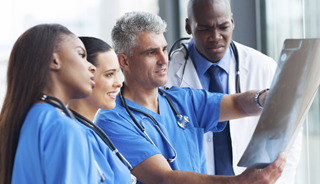 Working in pairs may reduce diagnostic errors
HealthDay News -- Collaborative practice is associated with a reduction in diagnostic errors from fourth-year medical students, according to a research letter published in the Journal of the American Medical Association.
"Diagnostic errors contribute substantially to preventable medical error. Cognitive error is among the leading causes and mostly results from faulty data synthesis," noted Wolf E. Hautz, MD, of the Charité Campus Mitte and Campus Virchow Klinikum in Berlin, and colleagues.
To examine the effect of working in pairs versus working alone on diagnostic performance, the investigators assigned volunteer fourth-year medical students six cases of respiratory distress on a computer, either in pairs (n=60) or individually (n=28).
Despite having comparable knowledge about the topic and selecting an equal number of diagnostic tests, pairs were more accurate compared with individuals (67.8% versus 50.0%; P=0.004). On average, pairs selected more relevant tests, but did so only when incorrect. Compared with individuals, pairs took 2.02 minutes longer to reach a diagnosis, but the selected tests would have taken 6.15 minutes less in reality.
Confidence was higher among pairs, but their confidence was not better calibrated (difference between correct and incorrect cases was the same). Confidence between participants within pairs differed more when diagnosis was incorrect versus correct (P=0.02).
"Working collaboratively reduced diagnostic errors among medical students," wrote the study authors.
"Similar to other studies, collaboration may have helped correct errors, fill knowledge gaps, and counteract reasoning flaws."